Trees close to power lines are a safety hazard, with the potential for causing injury or death by electrocution.
Trees near power lines are also a major cause of power outages.
Overgrown trees also prevent our crews from repairing valuable equipment quickly and can delay the process of restoring power to get our customers back up and running.
Your responsibilities as a tree owner
The Electricity (Hazards from Trees) Regulations 2003 clearly define the responsibilities of electricity lines companies and tree owners. The aim of the regulations is to protect the safety of the public and the supply of electricity.
A tree is your responsibility if you own the land it is growing on. Under the regulations, trees must be kept clear of power lines as shown in the illustration.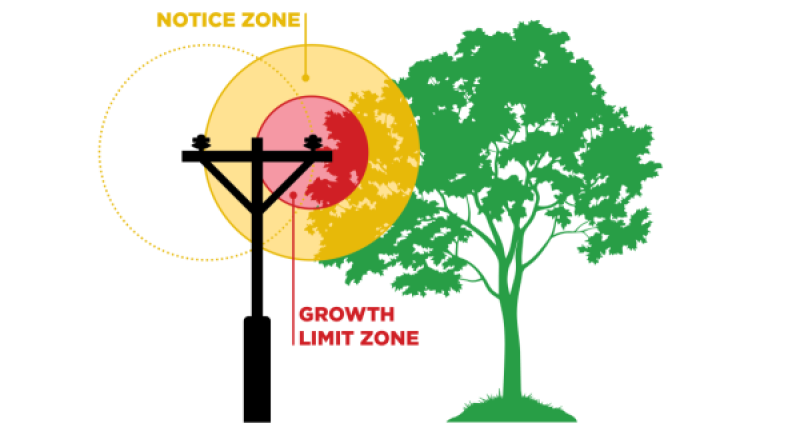 The different zones to know about
NOTICE ZONE — The notice zone extends one metre beyond the growth limit zone. If your trees reach this zone, you may receive a HAZARD WARNING NOTICE from Firstlight Network to caution that the trees must not enter the growth limit zone.
GROWTH LIMIT ZONE — No part of a tree should be inside this zone. If you own a tree or other vegetation encroaching on this zone, Firstlight Network will notify you that its' first cut or trim will be carried out free of charge. YOU MUST RETURN THE PERMISSION FORM ALLOWING OUR CONTRACTOR TO CUT OR TRIM THE TREE. Growth limit zones for trees near power lines vary depending on the voltage of the lines nearby.
| OVERHEAD LINE | NOTICE ZONE | GROWTH LIMIT ZONE |
| --- | --- | --- |
| High Voltage | | |
| 110kV | 5.0m | 4.0m |
| 50kV | 4.0m | 3.0m |
| 33kV | 3.5m | 2.5m |
| 11kV | 2.6m | 1.6m |
| Low Voltage | | |
| 400V/230V | 1.5m | 0.5m |
| Service main | 1.5m | 0.5m |
Help us keep you safe
To keep our lines working and safe for our community, we carry out regular surveys throughout the region and will issue a 'Cut or Trim' notice to owners of trees that have grown into the growth limit zone.
If you get a notice you have two options:
1. Keep your trees and have them trimmed. You have been notified because your trees are growing close to live power lines. If this is your first notice we will do your first trim for free.
2. Get rid of the trees. If you want us to take care of keeping the trees a safe distance from our lines then you'll need to declare in writing that you have 'No Interest'. We'll decide to trim or fell them.
IMPORTANT: If you have been sent a notice it means that your trees are dangerously close to live electricity lines. You must not cut them yourself and they are ONLY safe to be cut by an approved tree contractor.
What to do if you have 'No Interest' in a tree on your property
You can declare 'No Interest' in the trees as long as the tree has been naturally sown or, if you believed at the time of planting that when it was fully grown it would not interfere with any power lines or equipment.
Plant the right tree in the right place
The easiest way to avoid problems with trees and power lines is to choose the right tree for the right place in the first place:
Before starting any new planting check for power lines and underground cables
Do not plant large trees underneath or anywhere close to power lines. If you must plant something shrubs or low groundcover are best
Trees grow big. Always check the plant size information. Understand what size your plant will grow to and then allow minimum clearance of at least 1.5 metres below the power lines and 3 metres to the side
Many smaller native trees and shrubs are suitable for planting near power lines and still provide good shelter. Our favourite New Zealand natives include Akeake, Kawakawa (Pepper Tree), Manuka (Tea Tree), Mapau (also known as Red Matipo) and New Zealand flax.
Keep trees away from power lines for everyone's safety
Cutting or trimming trees near power lines can cause serious injury or death by electrocution and must ONLY be carried out by approved tree contractors with the right training and equipment.
Firstlight Network approved tree contractors:
Shelterbelts
If you have a shelterbelt on your property, it's your responsibility to maintain the trees and keep them away from powerlines.
You'll need to make arrangements with an approved Network contractor to trim the trees. They will liaise with Firstlight Network to arrange a power shutdown if required, or to supervise working around our lines if the trees are within 4 metres. All associated costs will be at the landowner's expense.
If you're planting a new shelterbelt, make future pruning easier by trying to ensure that – when the trees are fully grown – they will be outside the 4 metre zone.
Private lines
Private overhead service mains connect some customers to our network through high voltage and low voltage overhead electric lines. The owner is responsible for the control of any trees close to these.
Trees near conductors
For safety reasons, tree control work near conductors must be carried out by a Firstlight Network-approved contractor.
Your obligations as a tree owner
Electricity network companies and tree owners must both comply with their obligations under the Electricity (Hazards from Trees) Regulations 2003. If you are a tree owner who is given notice to cut or trim a tree, and you fail to do so, or you fail to advise Firstlight Network of the time of the cut or trim, you could be fined up to $10,000 plus $500 a day.
You could also be liable for costs in outages and repair of power lines if damage has been caused by your trees.
We deal with trees a lot and try to be as helpful as we can. For more information please give us a call on 06 869 0700, or email trees@firstlightnetwork.co.nz